Surf lessons for all Levels
With its privileged location on the Gran Camping Zarautz we welcome you this summer in our Surf Camp.
On our private campground you will find a spacious lounge tent, our reception, food truck, nearby yoga and surf skate area to practice those surf moves together with our crew and new friends.
You can charge your electronic devices with us while surfing which is free of charge just as well as the use of our skates and cruisers.
For food we offer you quality meals with a great vegetarian option every day, made by our own Chefs! And yes! Our big healthy breakfast is included in the price.
Join our activities and let us take you on a journey full of surfing, fun activities and new adventures!
Surf lessons for all Levels
If you are traveling alone or with friends or family, we make sure we have got the right tent ready for you.
Our two person tents are high enough to stand tall and stretch out to relax and share with your partner in crime or new surf buddy.
If you are looking for something more, then please check out our upgrade options! And bring a bit of comfort and safari flair into your stay.
Our Boutique tents are exactly the right thing for you!
For those who like to spend their time with us in style and luxury we recommend checking out our big Glamping tents.
Your week will start with a warm welcome from the crew and a meet and greet with fellow surfers.
And it doesn't matter if you are about to start your surfing experience or you want to improve your skills. Surf Classes are given every day in small groups (max. 6 persons per group) and have a duration of 1.5 hours.
So get more waves together with our licensed surf coaches and squeeze out every moment in and outside of the water. We teach in English and Spanish.
When renting a surfboard you will have the privilege of having your own board that can be taken out for a surf 24/7!
* Also you will have an insurance coverage for accidents included during the surf lessons, ask us for the details
Surf lessons for all Levels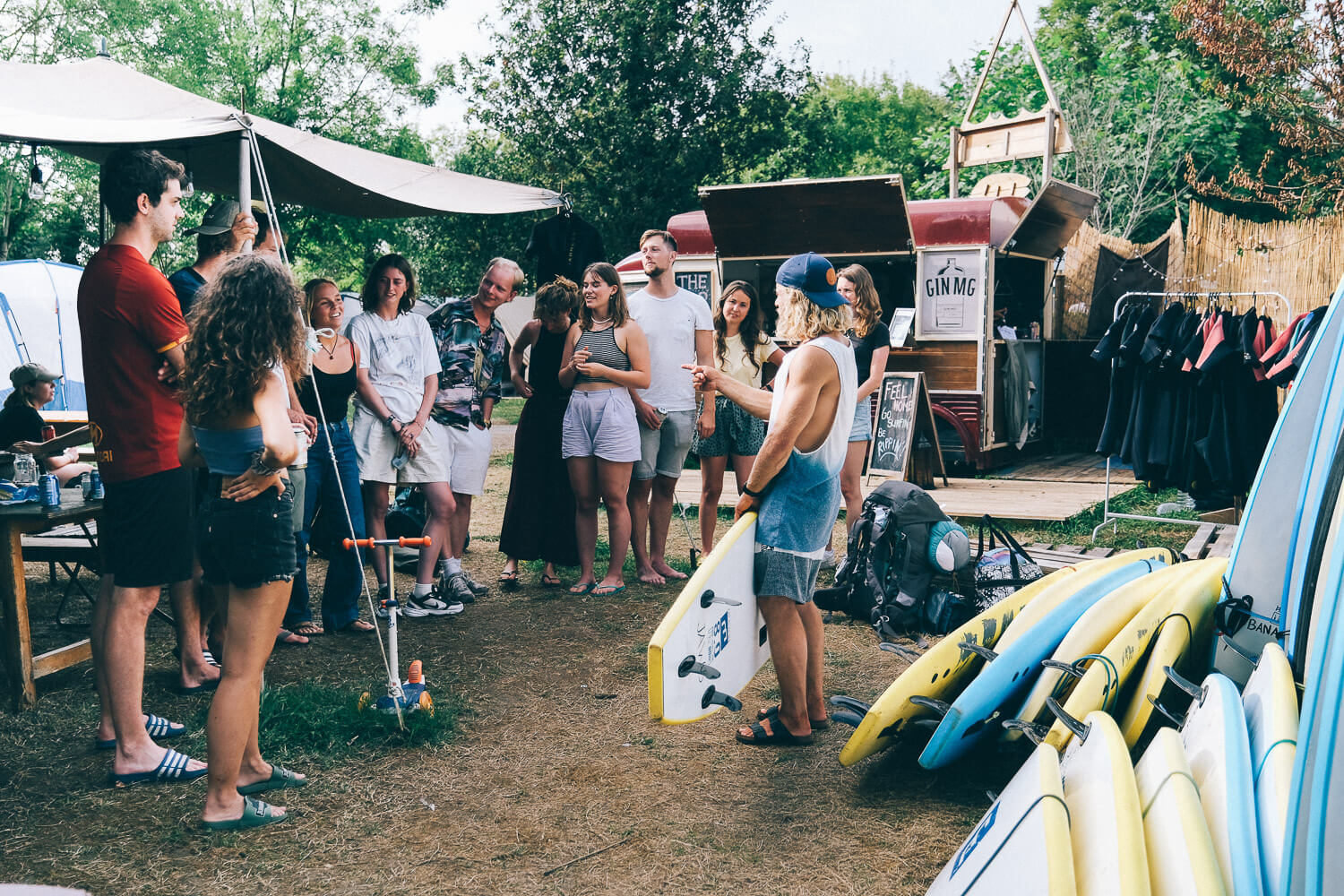 You can choose between a big variety of surfboards for all levels and types of waves!
Let us pick the right board for you, and If you want to try out something new, you can switch boards on specific moments during the week. Of course depending on availability.
Our range goes from shortboards to longboards, soft tops and advanced boards. With our surfboard rental you will get your own surfboard for the week. Like this, you can go surfing whenever you like.
Stay warm and surf longer! Get one of our wetsuits and enjoy the waves as long as you want. So leave the water only to recharge energy and not because you are getting cold. We have all sizes of wetsuits available, go ahead and get yours!
Make the most of your stay and let our crew take care of your food.
Wake up every morning to the smell of fresh coffee and a nice healthy Breakfast that is included in your reservation.
Also, you should definitely check out our Dinner option!
In the evening our chef will prepare a nice family dinner for you and your surf buddies. Choose between different salads and healthy international plates like chicken curry, Mexican dishes or an Italian evening.
Once a week we light up the BBQ and start the party! Lots of salads and side dishes, different meats and nice vegetarian and vegan alternatives to choose from.
And if you are following a personal diet or have any food allergies just let us know and we got you covered. No one is left hungry behind!
Surf lessons for all Levels
Join 'the party' and the amazing camp vibes!
We have different activities during the week for everybody to enjoy, like early morning or sunset surf sessions, games at the camp or the beach and an amazing flair is waiting for you!
Surf lessons for all Levels
Base Price Surf Camp 7 days From € 209 Includes
7-Night Stay
Breakfast Buffet, every day (x 7)
Facilities: Reception, Lounge Tent, Surf-Skate & Yoga Area
Skate-longboard Lesson & Use of Skate-longboards
Surf Ethics & Theory
Parties & Activities
10% Discount Soft-goods Good People Surf Shop & Shack
Booking Fees
Dates 2023
7 Days, Saturday to Saturday
July
1 – 8 € 209
8 – 15 € 229
15 – 22 € 229
22 – 29 € 249
29 – August 5 € 249
August
5 – 12 € 259
12 – 19 € 259
19 – 26 € 249
26 – September 2 € 229
September
2 – 9 € 209
7 – 10 € 165 Fiesta Vasca Special!
 Daily Surf Classes of 1,5 hrs (x 5), Surfboard beginner & Wetsuit (24/7) € 169
Surf Classes of 1,5 hrs (x 3), Surfboard beginner & Wetsuit (24/7) € 149
Private Surfboard beginner & Wetsuit (24/7) € 109
Surfboard Advanced (24/7) € 100
Dinner (x 6) including our Big BBQ night € 85
Private Base Tent, when travelling alone € 70
Boutique Tent for 2 persons € 159

(€ 79,50 p.p.)

Glamping Tent for 2 persons € 199

(€ 99,50 p.p.)
If you are driving, just put 'Gran Camping Zarautz' in your navigator and you will find your way easily.
When traveling by plane, the closest airports are:
Bilbao (BIO)
Biarritz, Fr. (BIQ)
San Sebastian (EAS)
There are good bus connections to find your way to Zarautz, and it's quite cheap as well.
Just ask us about the respective connections, we will be happy to help you with the planning!
Wave forecast for Zarautz. Check here how the surf will be for the next 6 days.
You can also see live action via the Zarautz webcam link